THIS IS A WORK SONG. HUMANS AREN'T WORKING.

7 August 2021
To help officially launch Song Work, we commissioned musician, artist and designer
Tommy Perman
to create a brand new song using sounds in the library as his inspiration.
Tommy chose some of the sounds we recorded at Michelin Tyre Plc in Dundee in 2017. We didn't know it then, but barely a year later the factory would permanently close its doors after 50 years in operation, 30 million tyres produced, and with the loss of 850 jobs.
Tommy captures the sudden potency of these recordings that, listening to them now, act as a kind of echo of a place that once thrived with human activity.
LISTEN HERE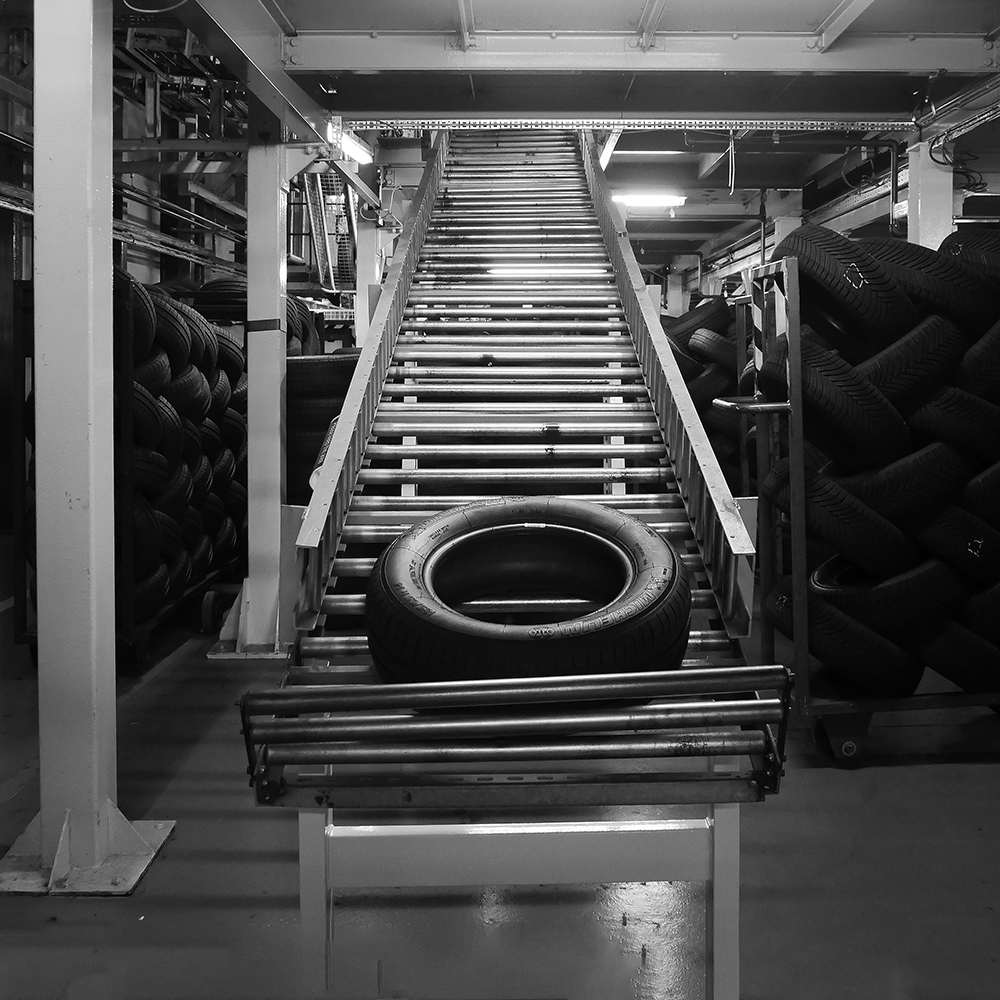 A finished tyre on pre-packing belt, one of the last tyres produced at Michelin Dundee before it closed its doors in 2018.
Tommy Perman:
'I was born in 1980 and really started getting into new music in the early 1990s. At that time there was an explosion of electronic music styles. In the hip hop, electro, techno, rave and jungle I discovered that any sound could be musical. While walking around the city the clanking of building sites or sirens of emergency vehicles readily combined with the music on my Walkman and didn't seem out of place at all.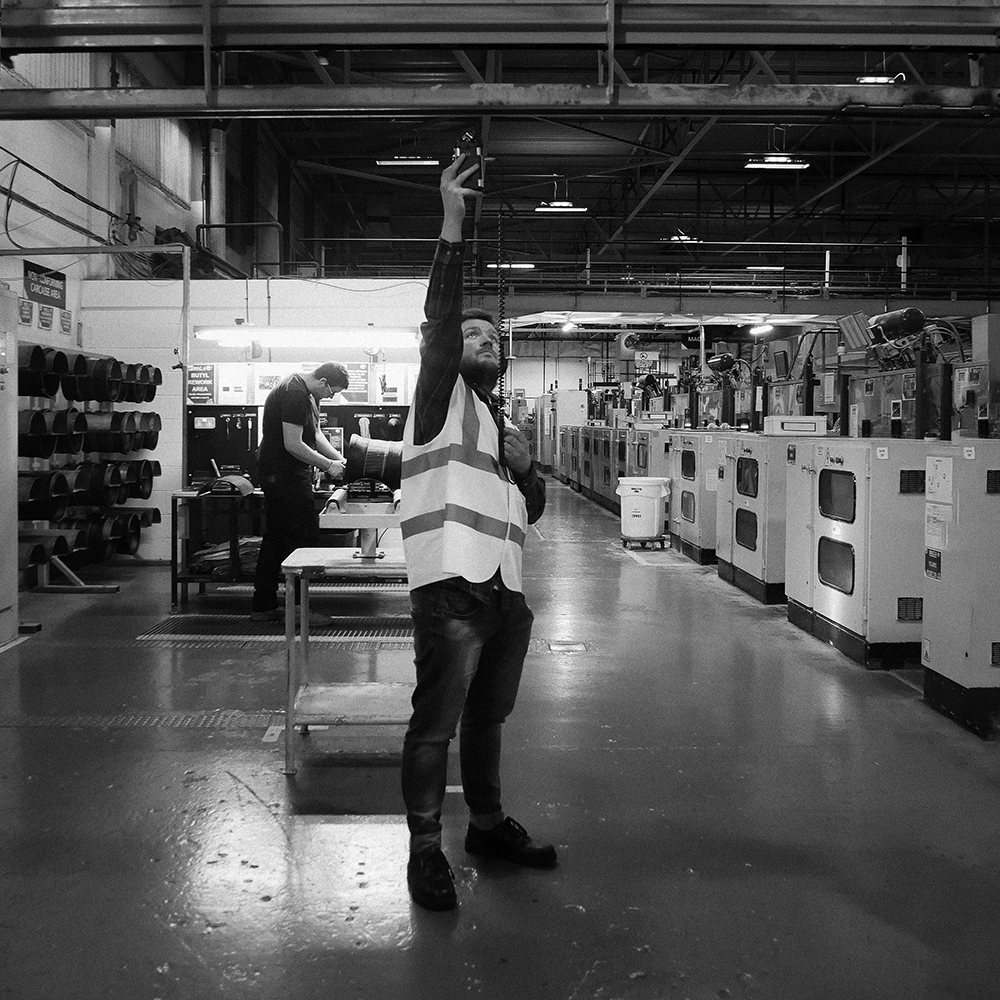 Andy Truscott recording at Michelin Tyres Plc, Dundee, 2017.
'I started making my own electronic music in my early teens and I was already completely comfortable with the idea that any sound can be music. So I was very happy to be invited to make some music from sounds recorded at Dundee's Michelin Tyre Factory. When I listened to the recordings as well as the rhythmic percussive noises you might expect I also heard distinct musical tones. Using an app called Melodyne (software commonly used for fine-tuning vocals) I learned that the factory hummed and droned in the key of B Minor.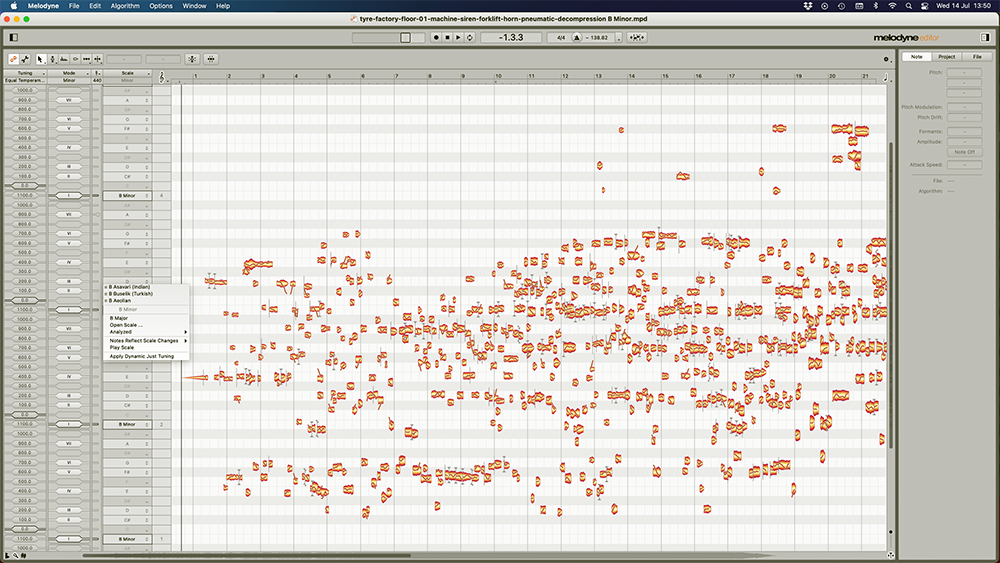 A screengrab of the Melodyne software Perman used to analyse the dominant frequencies in the Michelin field recordings. This information helped Perman decide in which key he should compose his song.
'This sparked a lot of ideas and very quickly I'd started layering and looping the factory sounds to make some music. I let the recordings lead me and before long I had an instrumental demo in place. But it felt like it lacked some focus. And I remembered a beautiful song that Siôn Parkinson had sent me of a choir singing factory sounds and work songs in the echoey surroundings of Westward Works at the 2017 Dundee Design Festival. Listening to this inspired a simple lyric: 'this is a work song, but humans aren't working' which I sung through a vocoder — a way of combining my voice with a machine which felt appropriate.'
Tommy Perman is a Scottish artist, designer and musician who has released over 50 albums, EPs and singles since his debut in 2002. He won a BAFTA for co-creating an 'emotional robot band' called Cybraphon which is now part of the permanent collection in the National Museum of Scotland. His visual design work has been seen across numerous high profile books, websites, record sleeves, and even projected on the Sydney Opera House.